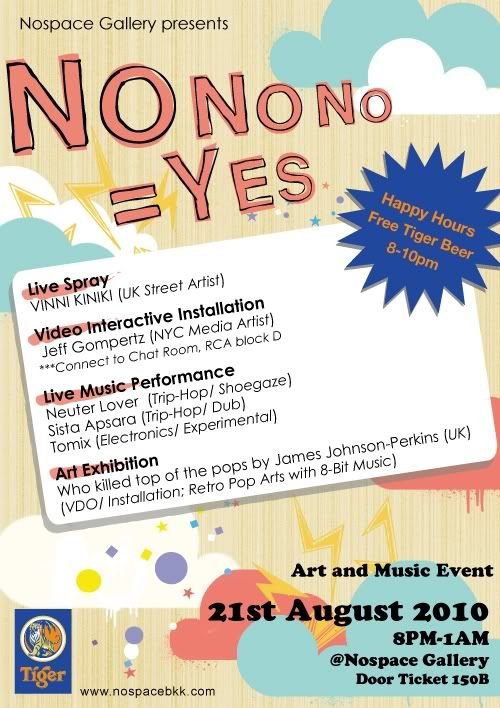 "Nospace for artists, artists need Tiger!!!"
Nospace Gallery presents
NO NO NO = YES
No no no is yes: the collaboration of street art, vdo interactive, retro pop, 8-bit, experimental music performance and beer!!!
This Saturday 21st August 2010, 8PM – 1AM @ Nospace Gallery, RCA
VDO Link Projection and Installation
by Jeff Gompertz (NYC Media Artist)
***Connect to Chat Room, RCA block D
5 Meters Live Spray
by VINNI KINIKI (UK Street Artist)
Art Exhibition (inside)
Who killed top of the pops by James Johnson-Perkins (UK)
5-22 August 2010
(VDO/ Installation; Retro Pop Arts with 8-Bit Music)
Live Music Performance:
Neuter Lover (Trip-Hop/ Shoegaze)
Sista Apsara (Trip-Hop/ Dub)
Tomix (Electronics/ Experimental)
No No No is Yes (Art and Music Event by Nospace)
Saturday 21st August 2010
8PM-1AM
@ Nospace Gallery, RCA
Door Ticket 150B
Timetable
Door Open: 8PM
Show Time: 9PM-1AM
Happy Hours: 8-10PM
Lucky Draw: 12PM
Silent Auction: 1AM
Happy Hours:
Get free Tiger beer from 8PM to 10PM
Lucky Draw:
Everyone who buys the ticket before 12PM has a chance to win the special prizes from Nospace Gallery (included Nospace limited edition T-shirt, designed by Nospace artists 2010 and many mores)
Silent Auction:
Join the auction for Vinni Kiniki's artwork by SMS to 0841341184, the auction will close at 1AM, no reserved!!!
Nospace Gallery
21/108 Block D, Royal City Avenue (RCA)
Bangkok Thailand 10320
084-1341184, 02-6414040
info@nospacebkk.com
www.nospacebkk.com