Nowhere Kallery
Nowhere Kallery is a group of street artist in Bangkok. The group was formed by Gio Panaisit Upathumbhananda & King Ekkalak Satidtawat in 2007. Nowhere Kallery first exhibition at Nospace Gallery from July 1 to August 31, 2007.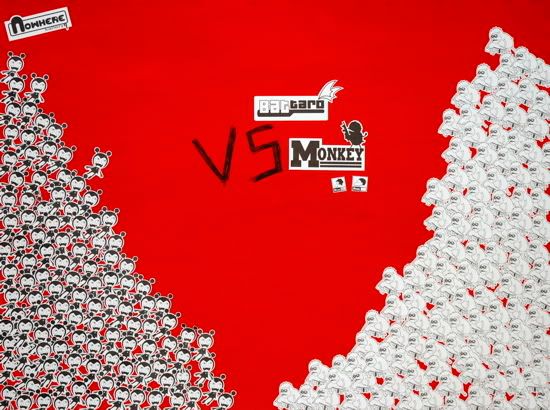 Battard VS Monkey by Gio & King Nowhere Kallery
Painting and Sticker
160x120x5.5cm Painting Frame
Gio Nowhere Kallery
Gio Panaisit Upathumbhananda (well known as a front man of Adulterer) is a character designer and underground cartoon writer. Gio formed 'Adulterer', an indies punk band and joined Bangkok Alien Music Alliance, an independent artist group in 2002. During the period, Gio lived and worked as a character designer for a comic magazine till he decided to quit job and started to publish his original cartoon book in 2004.
Gio Nowhere Kallery Artwork 2007
King Nowhere Kallery
King Ekkalak Satidtawat is an editor of Harmagazine. King exhibited several projects in Bangkok since 2001 and published Harmagazine with his friends in 2005.
King Nowhere Kallery Artwork 2007