How to use your professor by Stylish Nonsense
March 19 - April 12, 2008
Opening Night: Wednesday 19 March 2008, 7-10pm
Live Performance: Saturday 12 April 2008, 10-12pm
Stylish Nonsense FIRST-TIME exhibition!
Stylish Nonsense is a legendary of electronic music duo from Bangkok.
Pok Wannarit Pongprayoon and June Yuthana Kalambaheti formed the band in 1998. The band became well known in Thai indie music scene with their unique re-mixed version for several Thai famous artists. They started to release their singles with Panda Records, an independent music label, in 2000. (Pok and June also the founder of Panda Records)
Stylish Nonsense released their first album, called 'Use your professor!' with Small Room Records, in 2004. The album became talk-of-the-town and the band was invited to show at several places, included Japan, France, Germany and Etc.
'How to use your professor' is the making of a remarkable electronic music album 'Use your professor!' in the format of mix-media installation, included live performance at the end of exhibition period.
The exhibition period starts from 19 March to 12 April 2008 at Nospace gallery. (Live performance 12 April 2008)
Stylish Nonsense (Panda Records Official Site)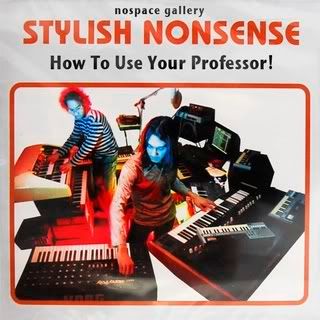 Press:
Stylish Nonsense Exhibition, interview by Bangkok Post
Pok Stylish Nonsense, interview by BK magazine
Opening night:
Wednesday 19 March 2008
STYLISH NONSENSE EXHIBITION
HOW TO USE YOUR PROFESSOR
included;
38 Sequence tracks from 'Use your professor' album
Vintage Analogue Synthesizer Setup
CASIO PT - 50
KORG MONOPOLY
RHODE MK-II
ROLAND JUNO-60
ROLAND SH101
TECHNICS SY1010
YAMAHA DX7
YAMAHA V50
YAMAHA YC-30
and more…
Retro-Digital Setup
Early touch-screen computer with speaker runs Stylish Nonsense MIDI tracks by Early Cakewalk!!!
and more…
STYLISH NONSENSE EXHIBITION
'HOW TO USE YOUR PROFESSOR'
LIVE PERFORMANCE!!!
12 APRIL 2008
10PM - MIDNIGHT
@ NOSPACE GALLERY
FREE TICKET
stylish nonsense live nospace gallery clip1

stylish nonsense live nospace gallery- clip2

stylish nonsense live nospace gallery- clip3

stylish nonsense live nospace gallery- clip4