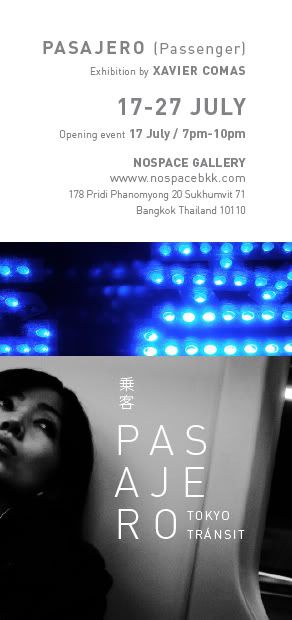 Pasajero by Xavier Comas
July 17 - 27, 2008
Xavier Comas FIRST-TIME solo exhibition in Bangkok
XAVIER COMAS
1970, Barcelona, Spain.
Xavier studied at University of Barcelona's Faculty of Fine Arts. He focused on book cover art for several years. His design, illustration and photographic work have been published on many covers of international non-fiction and fiction books.
Xavier is now based in Bangkok from where he travels around Asia. His photographic work explores awareness underlying human relationships. Pasajero is actually his first serious attempt as photographer.
"Pasajero means passenger in spanish but it also means fleeting, ephemeral. This double sense encompassed my journey in Tokyo's rail system: as Spanish passenger riding trains randomly, but also as beholder of the transience of daily life through haphazard encounters with Japanese passengers. Tokyo trains and stations invite to introspection, revealing a fascinating inner world of silence concealed behind a luring outer facade of visual seduction. Pasajero proposes an unusual photographic journey in a transit space wherein emptiness is full of meaning."
Opening Night: Thursday 17 July 2008, 7-10pm